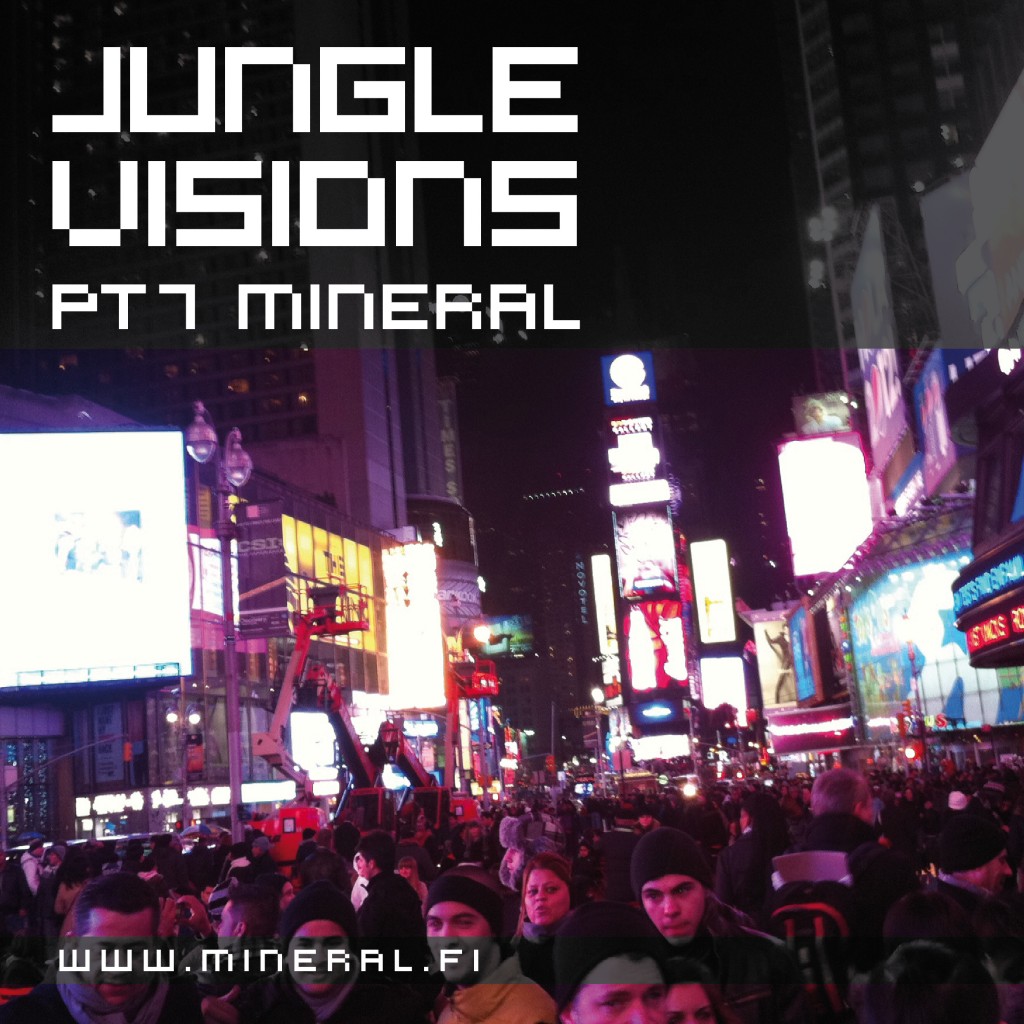 Hi guys! It's been a while since my last mix, so here it comes. The next episode of the Jungle Visions -series wonders mostly in the realms of old school dnb. Most of these tracks are released before 1998, although there are a couple of newer tracks as well. I really can't tell how much I enjoy mixing my track "Three Decks" to Genotype's "Capacity"… If you're too busy to hear the whole mixtape just rewind to around 16:30+ and enjoy the double drop! It's BAAAD.
Mineral Presents – Jungle Visions pt7
download: http://www.mineral.fi/JungleVisions/Jungle_Visions_pt7_Mineral.mp3
01. J Majik – Subway [Infrared]
02. Randall, Andy C – Sound Control (rmx) [Ram]
03. The Underwolves – The Crossing Part 2 [Creative Wax]
04. Future Forces Inc. – Flash Gordon [Renegade Hardware]
05. Lemon D – Change (DJ Krust Remix) [V Recordings]
06. Future Forces Inc., Kane – Morpheus [Renegade Hardware]
07. Mineral – Three Decks [Dub]
08. Genotype – Capacity [Renegade Hardware]
09. Mineral – Spider [In Da Jungle]
10. Ed Rush & Optical – Splinter [Virus]
11. Genotype – Square Waves [Renegade Hardware]
12. Dillinja – Unexplored Terrain [V Recordings]
13. A Sides – Assasin [Eastside]
14. Future Forces Inc. – Cold Fusion [Renegade Hardware]
15. Klute – We R The Ones (Ulterior Motive Remix) [Commercial Suicide]
16. Loxy & Resound – Thin Ice [Exit]
17. Genotype – Toxic [Renegade Hardware]
18. Future Forces Inc. – Symetrix [Renegade Hardware]
19. Mineral vs Taajuus – Four Years Later (VIP) [Dub]
20. Ed Rush, Optical – Mystery Machine [Virus]
21. Fanu – Nuku [Lightless]
22. Mineral – Living The Dream (Esc & Subsense remix) [Dub]
(available at Jungle Visions Mixcloud too)
Here's the new Jungle Visions pt5 mixtape that I recorded a few days ago here in New York City. Jungle Visions is a mixtape series about various styles of Jungle/Drum'n'bass. It explores the deeper and more atmospheric sides of the genre. After being on hold for a while, it's time to bring the mixtape series back with a fresh mix. Hope you enjoy the atmospheric mix.
Jungle Visions Pt5 mixed by Mineral (1h 3min)
http://www.mineral.fi/JungleVisions/Jungle_Visions_pt5_Mineral.mp3
01. Seba – Metropolaris : Warm Communications
02. Blu Mar Ten – Sweet Little Supernova : Blu Mar Ten
03. Sabre – A Wandering Journal (Rockwell's Club Mix) : Critical
04. Atmospherix and M-zine – Kinetic : IM:Ltd
05. Mineral – The Streets of New York : Mineral.fi free
06. Source Direct – Shadows : Basement Records
07. Mineral – It Could Be Just a Dream : In Da Jungle Records
08. Seba – Nucleus : Svek
09. Nevermind – Lost Soul (Omnius remix) : Amen Brothers Records
10. Naraka & Furi Anga – Last Drops Of Sapphire : Brainz Recordings
11. Mauoq – We Better Stop Them : Extent VIP Recordings (forthcoming)
12. Anile – Never Together : Deepsoulmusic UK
>> Loxy & Resound – Typecast : Loxyresound.com free
13. Loxy & Resound – Typecast (June Miller rmx) Loxyresound.com free
14. Esc – Secret Ways : Unsigned
15. Nitrous – Lotus : In Da Jungle Records
16. Photek – Ni Ten Itchi Ryu (Riot Remix) : free
17. Sabre – 100 Theeth (Dub Phizix Remix): free
18. Seathasky – Packet Loss : free
19. Crimean – Snowflakes : free
20. Bulb & N4m3 – From The Moon : free
21. A-Negative & keOSz – Through Your Eyes : Totaal Rez forthcoming
22. 5-Foot Nothing – Broken English (For Kelly) : free