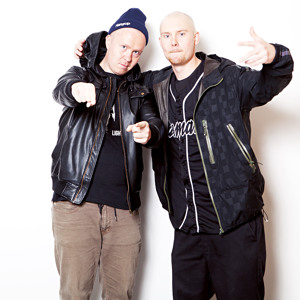 I just came back to NYC from a really exciting trip to Atlanta. Now as I'm browsing through the new mixtapes and all the latest dnb stuff, guess what I found? The two jungle badboys Fanu & Docius have finally joined forces to bring us a massive monthly Drum'n'bass radioshow at Bassoradio.
I really can't tell how much I've enjoyed both these guys selections for years now, so this union is GOOD news. Fanuism meets Viidakkorumpu, yeah that's what I'm talking 'bout… It doesn't get any better than that. These junglists will be hosting this monthly show from now on, so these Fridays are something I'm really looking forward to. Boh!
Anyways, In this radioshow 15 June 2012 they also played one of my tunes, Naraka remix of the track Spider, big ups guys! Check the recording below and tune the basses to max, 'cos this 1 is a killa!
OK, I'm off to the gym now listening this mix. GGrreeat!
D&B show with Fanu & Docius on Bassoradio – archive of Jun 15, 2012 (download)
d&b show with Fanu & Docius on Bassoradio (Jun 15, 2012) by Fanu
01. Blu Mar Ten – Futureproof
02. Skitty – Steelers
03. Skunk Anansie – Secretly (Optical remix)
04. Seba + Paradox – Time Starts Now
05. Stranjah – 40 Days
06. Resound + Loxy – Civil War
07. Klute – Acid Rain
08. Asylum – Da Bass II Dark
09. Lion of Judah – Emperor Selassie I
10. DJ Trax – Space Is The Place
11. Future Forces & Dj Kane – Morpheus
12. Defo – Moral
13. Klute – Saviour
14. Mineral – Spider (Naraka remix)
15. Bulletproof – Funkthief
16. Bad Company – Sentient
17. Verb + Devastate – The Killzone
18. Trace + Nico – Amtrak
19. John Rolodex – Box Of Snakes
20. D Bridge – Mourning Dawn
21. Social Engineer – Her Sense
22. Scape – Earthling
23. Jonny L – PBX
24. Ed Rush + Fierce – Locust
25. Freestyles – Musically Dope (Ganja Kru remix)
26. Stranjah – Fukk You
27. Nemesis & Dj Kane – System (Optical & Fierce remix)
28. Aphrodite – Bomber
29. Cool Hand Flex – Ya Buzzin
30. Kemal + Sinthetix – Ultraviolet
31. Multi Flex – Time Lapse
32. Todd Terry – Blackout
33. Trace & Nico – Squadron
34. Seba – Special Ops
35. Polar – High Voltage