Last September I wrote about moving to New York from Finland. Now as I'm writing this update, the magnificent year is coming to it's end and we are moving back to Finland with my family this Friday. Spending the year in New York has been without doubt the best year of my life, in many ways.
The year culminated to it's climax when our little baby girl was born on 18 August 2012. I cannot tell you how proud father I am. This is definitely the biggest thing ever happened to me… We will see what kind of music her generation will listen to, but I will do my very best to bring her into the world of breaks and jungle, that's for sure!

Anyways, I will most certainly miss the city and New York will always have a place in my heart.
With that being said, I'd like to share once again the music video of my track "The Streets of New York". I produced this track last fall shortly after moving to Manhattan. Farewell, Big Apple!
If you like, the track is available for free download here.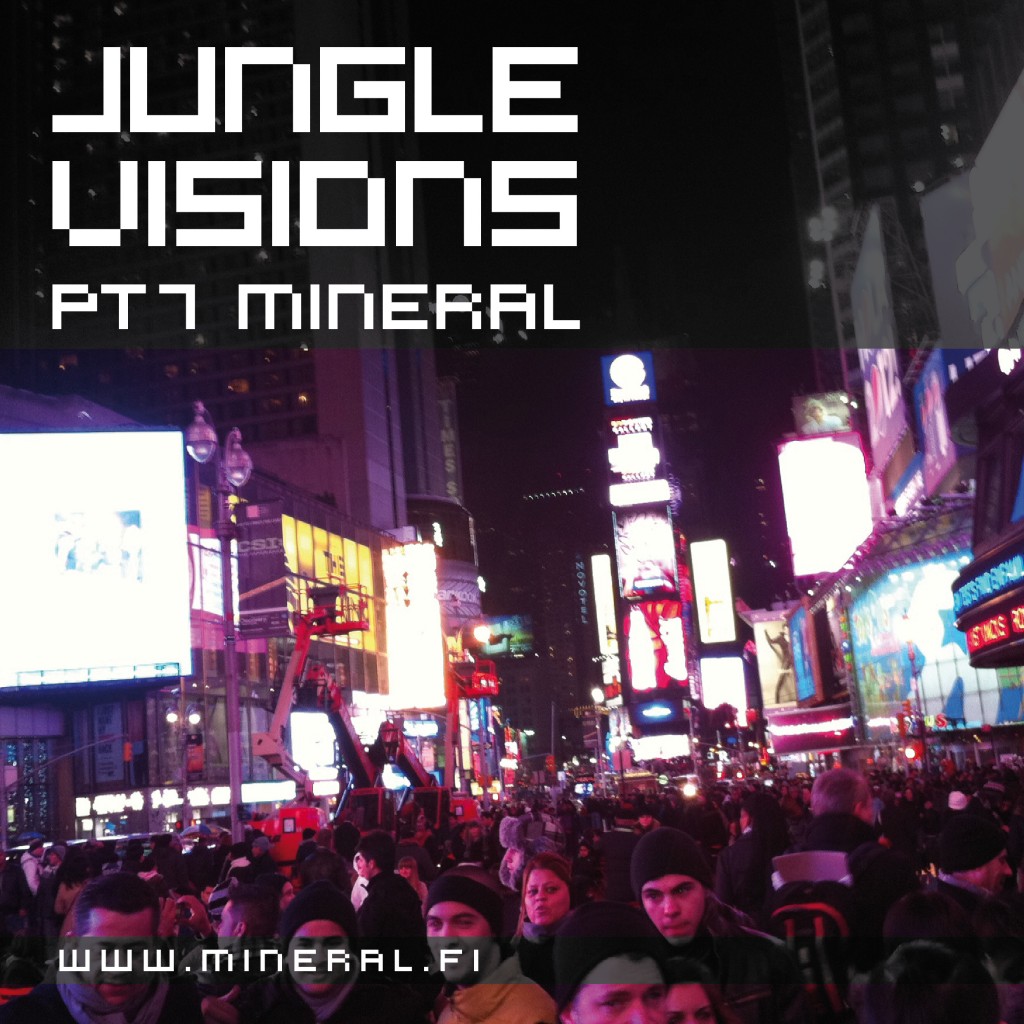 Hi guys! It's been a while since my last mix, so here it comes. The next episode of the Jungle Visions -series wonders mostly in the realms of old school dnb. Most of these tracks are released before 1998, although there are a couple of newer tracks as well. I really can't tell how much I enjoy mixing my track "Three Decks" to Genotype's "Capacity"… If you're too busy to hear the whole mixtape just rewind to around 16:30+ and enjoy the double drop! It's BAAAD.
Mineral Presents – Jungle Visions pt7
download: http://www.mineral.fi/JungleVisions/Jungle_Visions_pt7_Mineral.mp3
01. J Majik – Subway [Infrared]
02. Randall, Andy C – Sound Control (rmx) [Ram]
03. The Underwolves – The Crossing Part 2 [Creative Wax]
04. Future Forces Inc. – Flash Gordon [Renegade Hardware]
05. Lemon D – Change (DJ Krust Remix) [V Recordings]
06. Future Forces Inc., Kane – Morpheus [Renegade Hardware]
07. Mineral – Three Decks [Dub]
08. Genotype – Capacity [Renegade Hardware]
09. Mineral – Spider [In Da Jungle]
10. Ed Rush & Optical – Splinter [Virus]
11. Genotype – Square Waves [Renegade Hardware]
12. Dillinja – Unexplored Terrain [V Recordings]
13. A Sides – Assasin [Eastside]
14. Future Forces Inc. – Cold Fusion [Renegade Hardware]
15. Klute – We R The Ones (Ulterior Motive Remix) [Commercial Suicide]
16. Loxy & Resound – Thin Ice [Exit]
17. Genotype – Toxic [Renegade Hardware]
18. Future Forces Inc. – Symetrix [Renegade Hardware]
19. Mineral vs Taajuus – Four Years Later (VIP) [Dub]
20. Ed Rush, Optical – Mystery Machine [Virus]
21. Fanu – Nuku [Lightless]
22. Mineral – Living The Dream (Esc & Subsense remix) [Dub]
(available at Jungle Visions Mixcloud too)