Oh yes, another Free Track of The Week is up: "Trisector & InZtance – Something to Give". This is a really marvellous track that I've been listening to a lot lately. Listen & download below:
Trisector & inZtance – Something To Give (free download) by trisector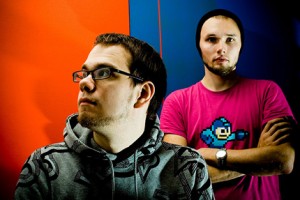 Trisector aka Otto Hassinen (Sciencehki) was inspired by music from an early age, and he has been around in the Finnish DnB scene for quite some time. I remember listening to his tracks already around the year 2000 on the Finnish radiostation Radiomafia by DJ Dizzy – I've been a big fan for a long time and I've been playing his tracks a lot in my DJ sets too. Trisector tracks are some real dancefloor mayhems, I'm telling ya!
Lately Trisector has really succeeded in making his sound known around the world with DJ support from names like Blu Mar Ten, ASC, Muffler, Physics, Resound, London Elektricity, Survival, S.P.Y, Kasra, Loxy, Mutated Forms and Chris SU among others. He has releases under Med School, Botchit, Destructive and Urban Graffiti, to mention a few. So we're talking about a big junglist/breakbeat head here! Over 1000 Trisector facebook -fans can't be wrong.
Trisector is also busy running a

monthly night called Science in his hometown Helsinki. Last year I was invited to play there too, and I loved the party. Also, there's plenty of high quality Science podcasts available at the Science page: www.sciencehki.net
inZtance a.k.a. Villem Hion is a drum & bass artist hailing from Estonia. He has recent releases on Med School and Hustle audio, and he has earlier releases on  Basswerk Files, Red Dragon Recordings, Nineteen 95 Recordings to mention a few. Also, In December 2007 inZtance won the "Best Drum & Bass Producer in Estonia" award. You should check out more of his tracks at inZtance soundcloud. Awesome tunes man!
Check more of Trisector:
– DJ'ing next weekend: "Spinni Presents: Splendid Bass! @ Tampere 27/11/2010″
– http://www.facebook.com/trisector – Trisector's Facebook, join in and like now!
– http://www.twitter.com/trisector – Trisector on Twitter
– http://www.medschoolmusic.com/artists/trisector/ – Very interesting interview
– http://www.sciencehki.net – Science site with lots of excellent podcasts + things related to d'n'b!
Check more of inZtance:
– http://soundcloud.com/inztance – Fantastic tunes
– http://soundcloud.com/rebel-cause – inZtance & Volume None