Prepare your coffees and adjust the bass to the max, as this week's Free Track is about to lift you into some serious Drum'n'bass heaven. The free track of the week, "Sight of Vision", is done by Defence, a really talented producer/DJ/promoter duo from Finland. The rolling dancefloorbeats accompanied with a twisted deep bassline make this track very much worth downloading. Check out this amazing track by Defence!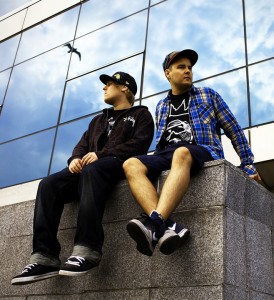 Defence – Sight of Vision [download www.mineral.fi_free004]
Defence – Sight Of Vision by Defence
DEFENCE REMIXES "MINERAL – ONE STILL REMAINS"
I'm also proud to present the fresh Defence remix of my track "Mineral – One Still Remains". I'm really loving the vibes in this remix, thanks a lot Defence crew! 🙂 Check the clip of the remix:
Mineral – One Still Remains (Defence Remix) by Defence
BIG DRUM'N'BASS EVENT AHEAD W/ DEFENCE, FANU & DAK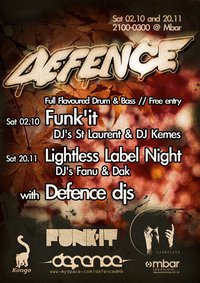 ::DEFENCE:: w/ Lightless Label Night 20.11 @ Mbar, Helsinki
With the ever-shortening days of November comes the next chapter of Drum & Bass awesomeness in the form of Defence in Mbar. This time around we're celebrating changing seasons by hosting a label night dedicated to the well-respected Lightless Recordings. Representing the mighty label we have no other than the label owner Fanu and the legendary DJ / producer Dak. This all will take place on saturday, 20.11.2010 from 21:00 to 03:0…0 (GMT+2). Defence is honoured to host a night with a lineup of this magnitude, that would normally cost you an entrance fee, for absolutely free. No reason to miss.